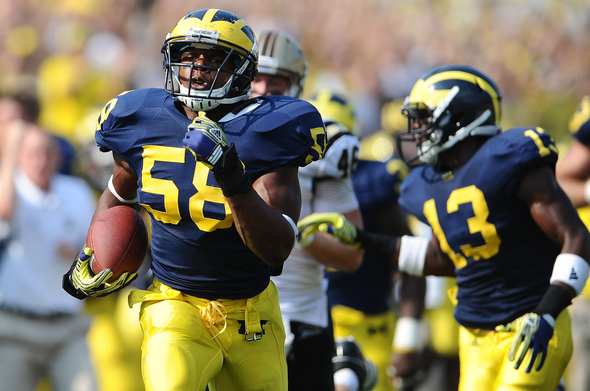 Melanie Maxwell, AnnArbor.com

Well it's a start. I had a long post thought out about beginnings and momentum and moments in time. About the disappointment after good starts of the last two seasons and we shouldn't get ahead of ourselves and how maybe this was different. But then I realized it was Western Michigan.
In a rain soaked almost-three quarters of play, Michigan had some great moments and some bad ones. Tell me you didn't start having a stroke during the first two WMU drives. And then tell me you didn't jump out of your seat when Brandon Herron stayed inbounds and raced (and I mean that. He's fast) 94 yards down the sidelines to completely change the complexion of the game. Michigan did look a little 2010-ish at times on defense, but Greg Mattison showed why we're all ready to marry him for not being GERG and made the adjustments needed to slow down the Broncos passing attack. Al Borges also aborted several coronaries by not trying to shove the offense into a pro style box. All in all it was a good day to be a Wolverine.
One quick note
-The linebackers and secondary need to do a better job of getting their heads around and finding the ball:
Too many guys just running. J.T. Floyd probably should have been flagged for pass interference and Courtney Avery almost gave up a TD on a ball that by all rights he had better position on. At least twice Brandon Herron was running to a spot and Carder threw a ball almost right over his shoulder, and I don't think Carder was just confident he could get one in there. You can (mostly) get away with that against WMU's receivers (even if Jordan White had a field day). But against big, strong WR's that can go up and get the ball, kind of like the future first round pick Michigan will be going up against this week, they're going to get mauled doing that. I don't think the Wolverines have the guys to cover Michael Floyd 1 on 1 anyway, but don't make it easy for him.
Offensive breakdown
Passing
Short passes are anything under 10 yards, intermediate is from 10-20, and long throws are anything over 20 yards. Note that this is
all plays,
plays negated by penalty included. This to try and get an accurate idea of what the offense is attempting to do in the passing game.
Also be aware that the distances can be subjective, as this is where the ball was caught, not where the play ended up, ie. a bubble screen that the receiver breaks for 50 yards is still a "short" pass.
And finally, I missed at least one pass play because of the technical troubles during the broadcast.
I've been working on what a "typical" Al Borges passing breakdown is vs what Denard was used to in Rodriguez' spread attack (which I'll tray and have up next week), but for now I'll say this wasn't it. 72.7% short passes in this game, which is far more similiar to last year than what Borges likes to do. His passing game is built around the intermediate throws, keeping the LB's off the line a bit more to open up the run and short passes, and keeping the safeties up, opening up the deep ball a little more. In the future we might see them try to find more opportunities for those mid range passes, but it seems like just another example of Borges playing to Denard's sttrength's rather than shoehorning him into something.
Rushing
| | |
| --- | --- |
| | |
| | |
| | |
| | |
| | |
| --- | --- |
| | |
| | |
| | |
I'm only tracking guys that actually got some yards after contact, so Vincent Smith is not on the chart. Again, this is subjective, just like all these numbers are going to be. If a guy slipped a tackle, or ran through a weak arm tackle, I gave him yardage after "contact." If he got hit and stopped, but momentum let him fall forward a yard, he doesn't get anything. If he pushes the pile a couple yards, he'll get some yardage. If he's hit behind the line he get's the YAC from where he was hit, not the line of scrimmage.
Toussaint got 21.3% of his yardage after contact, Shaw 24.1%, and 26.1% for Denard. You already know about Denard. Both running backs looked good. I actually thought Shaw was slightly more impressive in limited carries, but Toussaint picked up some tough yardage. Neither guy has great vision, but they both ran through some tackles and showed good burst. Shaw would have had a TD on that toss after the fake to the fullback in the redzone if Roundtree blocked anyone (he actually misses two guys on the play), but he did a nice job of avoiding the tackle in the backfield and turning it into a good gain.
Only two run plays for negative yardage is good no matter who you're playing, and neither was on the RB's. A good day for the running backs overall, although I was surprised they weren't involved in the pass game more (or at all even).
Receiving
| | |
| --- | --- |
| | |
| | |
| | |
| | |
Just like the RB's above. Players are only charted if they gained RAC yardage. If they caught a ball behind the line and then picked up 2 yards, they get RAC from where they caught the ball, not the line of scrimmage.
A slow day passing, so there isn't much here. Grady picked up some decent RAC on the crossing play down to the 2 in the first quarter. Gallon got yardage after both of his catches. Roundtree could have had a bunch on the slant but Denard put it behind him. He had to make a nice catch just to bring it in. Junior Hemingway had the catch of the day on the deep ball (Kevin Koger might punch me in the face after he made a nice grab on a high pass that got him killed, but whatever), going up to bring it down over a defender. That's the type of throw Denard needs to make on those long balls. He's still overthrowing the deep ball (the one to the TE down the middle would have been a tough catch, but at least give him a shot at it).
The old saying is "Don't miss the long ones short, and the short ones long." I'm not sure that's the case anymore, for the deep balls anyway. When you have a guy like Calvin Johnson or Andre Johnson (I'm not saying we have one of those guys) you should never overthrow that guy. Give him a chance to make a play. Hemingway is a guy that can go up and make a play for you. Let him do it.
Only one drop on the day, from Drew Dileo. It was a tough play, but he probably should have had it.
Offensive line
| | |
| --- | --- |
| | Pressures allowed |
| Michael Schofield | 1 |
The offensive line did a very good job. Only one pressure allowed, and that from the guy replacing injured starter Ricky Barnum. Of course Denard being Denard, that play turned into a long first down run. No one else got close to the quarterback. Robinson had all day on passing plays.
Running was fairly smooth as well. Only one real blowup, when Toussaint got hit in the backfield. It looked like he was hit by half the WMU defense on the play, so I'm not sure you can blame anyone specifically on that one. Shaw's loss play looked like it just got strung out. There were some holes out there that looked like someone dropped a bomb in the line.
David Molk may not be able to blast guys 5 yards off the ball, but he's a master technician out there. As of right now I think he'll be the first Michigan player drafted this year (yes, ahead of Martin). Omameh is great in space and he looked better against power. Once Barnum comes back the interior line should be a real strength, if it wasn't already. Even without Barnum they're pretty damn good.
Defensive breakdown
| | |
| --- | --- |
| | Pressures |
| Kenny Demens | 5 |
| Jordan Kovacs | 2 |
| Jake Ryan | 2 |
| Ryan Van Bergen | 1 |
| Mike Martin | 1 |
| | | |
| --- | --- | --- |
| | Passes attempted against | Passes completed against |
| Jordan Kovacs | 3 | 1 |
| Thomas Gordon | 3 | 1 |
| Courtney Avery | 3 | 2 |
| J.T. Floyd | 2 | 1 |
| Troy Woolfolk | 1 | 1 |
Pressure numbers include sacks as well. The passes targeted/completed against are obviously not complete. I only included plays I could be relatively sure who was in coverage or who should have had the zone. Some plays have three guys around one receiver, and I don't want to blame one specific player if I'm unsure. Obviously this left out a decent number of plays. Hopefully as time goes on I'll get better at determining who was the guilty party.
Michigan got good pressure for most of the game. Unfortunately, you can see above that only two of the eleven pressures above came from the defensive line, and one of those was when Ryan Van Bergen was standing up in a two point stance. The defensive line simply has to do a better job of beating the man in front of them and getting to the QB.
On the plus side, Jake Ryan played very well. One of his pressures (aside from KILL) was when he replaced Roh at defensive end for a play and beat the left tackle pretty easily to get a hit on Alex Carder. He should start seeing more time because he's a versatile kid that seems to make plays. Demens was getting through the line just about every time he came on the blitz. You already know about Jordan Kovacs.
The problems against the run seemed to be mainly a result of two things. When Martin and RVB were out the middle of the line was getting massacred on most plays. I'm not sure the depth guys we had in there are even good enough to be in for a few plays a game. Unfortunately, they have to be. Unless someone steps up, Michigan is going to struggle big time when those two aren't in there. Second, the DE's seemed to be getting way too far upfield on some plays. Misdirection is always going to be tough on LB's and DE's, but you can't be so far upfield you're already past the QB when he hands off. Demens did add to the problem by not getting to the playside of the blocker on one play as well.
The problems against the pass looked to be more on the linebackers than the secondary. They seemed to be late getting into zones alot, and the awareness once there wasn't great either. But at least there were no huge plays, and the safeties seemed to do a good job of keeping things in front of them.
Special Teams Breakdown
BLERG
For the rest of the numbers from the game (the unimportant ones, like rushing yards and stuff),
go here.
Tomorrow: Senior draft breakdown